Meet the
Authors, Illustrators, Members
Meet the Authors, Illustrators, and team members that helped this organization be possible.
_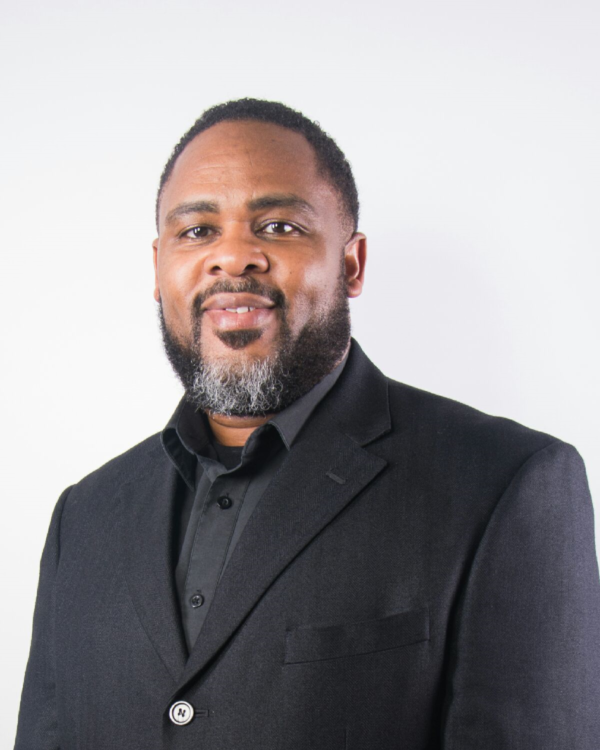 Founder/President
JULIUS B. ANTHONY
Mr. Anthony is Founder and President of St. Louis Black Authors of Children's Literature Initiative, a subsidiary of The ECE Prep School, LLC. Julius has enjoyed more than 20 years as an early childhood education professional, and has served on several Boards, curriculum committees, and state level work groups. However, Julius says that his most important work to date was the time he spent teaching first grade. Julius is also the Founding Principal of City Academy, a bourgeoning independent day school located in one of St. Louis city's most vulnerable neighborhoods. Throughout his career, Julius has enjoyed writing motivational poems and short stories for his students and has always been a fierce advocate of culturally competent literacy based early childhood education instruction.  In October of 2014, Julius published his first children's book, a collection of original poems entitled "Me! Ten Poetic Affirmations". Mr. Anthony is a proud graduate of Howard University (Washington, DC).  Julius is also a 2001 graduate of Leadership St. Louis sponsored by FOCUS St. Louis and a 1995 fellow of Washington University's (St. Louis, MO) National Endowment for the Humanities' (NEH) Harlem Renaissance Project.
"For Black children, literacy is liberation."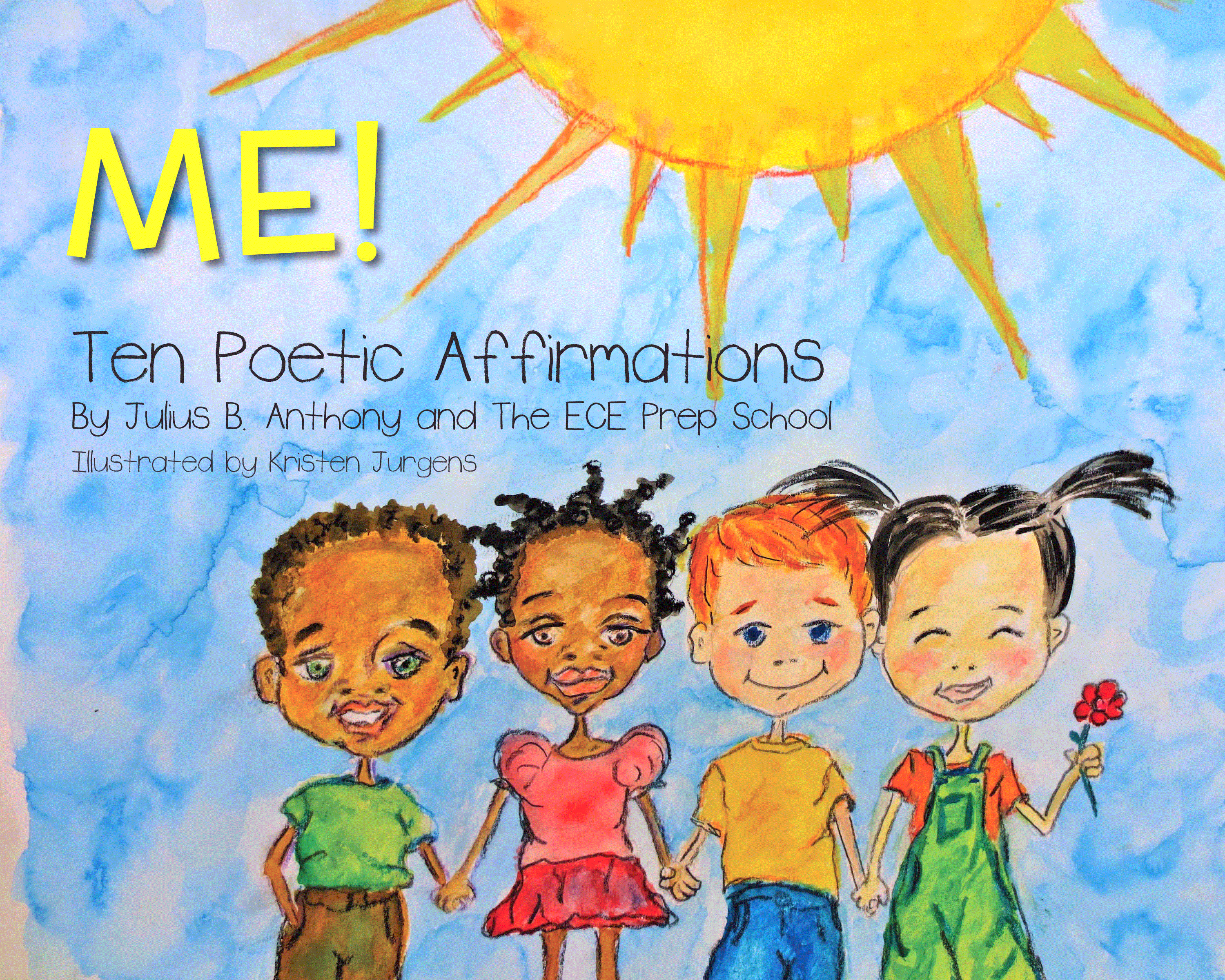 "Me! Ten Poetic Affirmations" (2014)
Written by Julius B. Anthony and Illustrated by Kristen Jergens
PK-G3
Let everyone affirm, "There is no one I'd rather be, than Me!" Through character building concepts like Purpose, Courage, Unity, and Creativity children are inspired to hope, dream, and be the best of themselves. Each reader will enjoy discovering their unique expression, we all know as "Me!"
TRACIE BERRY-MCGHEE
Tracie Berry-McGhee, M.Ed., LPC is the Founder of the SistaKeeper Empowerment Center, a therapist, mentor, motivational speaker, and author known as DivineTea. A native of St. Louis, MO, she attended the University of Missouri-St. Louis where she received her Masters of Education in Counseling in 1998 and her Bachelor of Arts in Psychology in 1990. She has self-published books, poetry books, journals and curricula for girls ages 8-18, focusing on defining who they are, having a voice and walking in their purpose.  In 2004, she founded the SistaKeeper Empowerment Center in her basement in the Ferguson-Florissant community, which has become an international nonprofit for girls throughout St. Louis as well as New Mexico, Africa, Jamaica and Germany.  In her private practice Imani Therapy, a wellness center for women and girls, she provides counseling,  As a social entrepreneur, she travels the country speaking about self-awareness, body image, anti-bullying, literacy, celebrating sisterhood and how to make a difference in your community.
"Growth comes from passing down knowledge and lessons from life."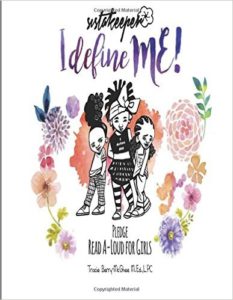 "I Define Me!" (2016)
Written by Tracie Berry-McGhee
"I Define ME!" is a Read-A-Loud Pledge book for girls that allow them to visually learn and embrace the SistaKeeper Pledge.  This affirmation in book form encourages girls to be the soul custodian of how they define themselves.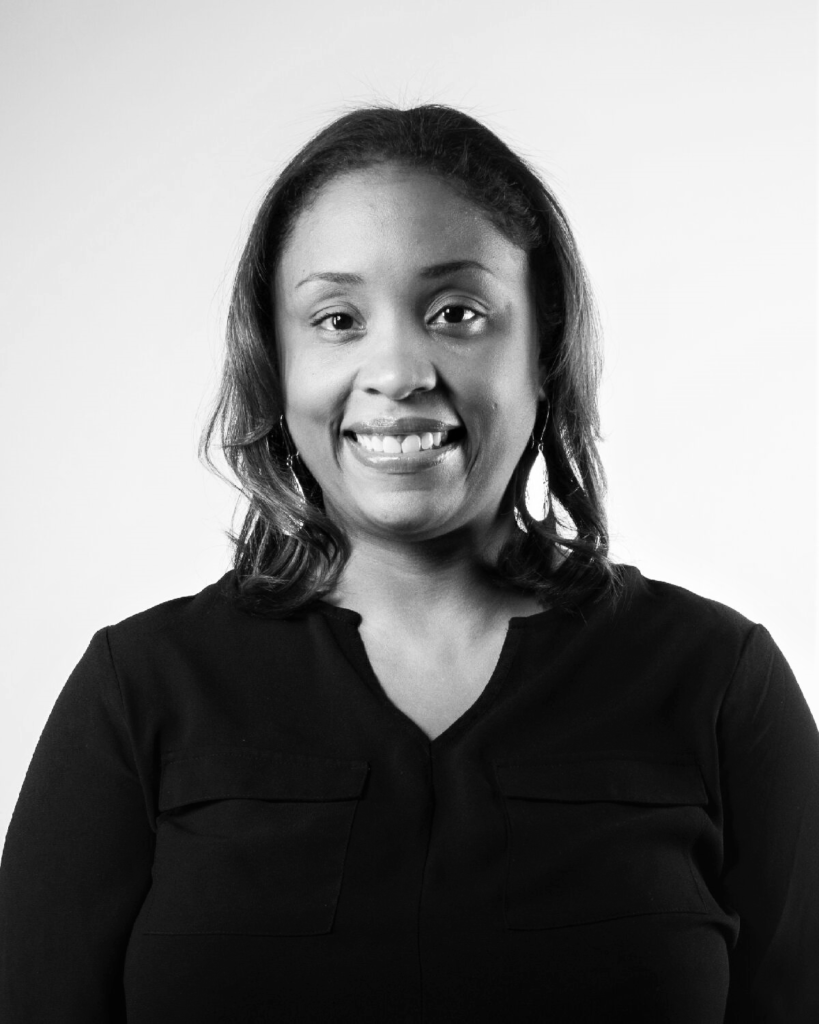 KELLY BYRD, Ed.D.
As a practicing certified Speech Language Pathologist, family literacy scholar and community advocate; Dr. Kelly M. Byrd is channeling her creative nature by sharing her own childhood stories. She is currently in the process of publishing her first book, Rainbow in the Sky, a story of a little girl (Kelly) and a beautiful gift of love given to her by her grandparents. Kelly has a passion for working with children and families from culturally and linguistically diverse populations. She has worked in Atlanta, Houston and Saint Louis Public School Districts and most recently opened her own family literacy practice: The Shade Tree Literacy Program. Dr. Byrd received her doctorate of Education in Curriculum and Instruction from the University of Illinois at Urbana-Champaign in December 2015. Her dissertation entitled, Generations: A Tapestry of Literacy Traditions in an African-American Family, challenged the dominant constructions of literacy in the schools, but ultimately illustrates the invaluable ways in which Black families define, talk about, pass down and enact literacy practices.
CANDICE COX
Founder and Clinical Director of "A&A Inspirations" [psychotherapy] and Executive Director of "KHAOS Inc" [501c3 organization], Candice graduated from Southeast Missouri State University with a Bachelor of Science in social work. She is a phenomenal author of adolescent therapeutic references, motivational speaker, trainer and developer of the KHAOS (keep healing and overcoming struggles) mindset.  Since 2004, Candice has provided licensed counseling and consulting services to children and families. In 2008 Candice graduated with her Master of Science in Social Work from the University of Missouri St. Louis. In 2012 she started her private practice, A&A Inspirations Psychotherapy. In 2014, Candice started implementing her Organized KHAOS program in local schools and community centers.
"Children can learn their value and worth by what they see in books."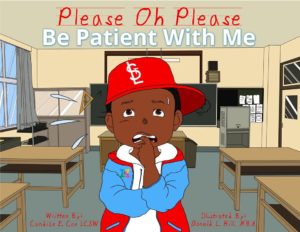 "Please, Oh Please Be Patient With Me" (2016)
Written By Candice Cox
Xavier is a very energetic little boy who finds himself in trouble often.  In this book he shares the struggles he faces being a child with ADHD and the skills he is learning to manage his symptoms. He knows that his behavior is frustrating at times but to be the best that can be he asks all adults to Please oh Please be PATIENT with me!
PAMELA HORNSBY-IRVING
Pamela Hornsby-Irvin, a native of St. Louis, MO, graduated from St. Louis Community College, Forest Park with an Associate in Applied Science, Early Childhood Education.  She is currently pursuing a business degree with an emphasis in Project Management at Columbia Southern University.  Pamela has been a teacher for many years, working at St. Louis Charter School, St. Louis Public Schools, and YWCA Head Start. Her passion for instructing children is an everlasting endeavor.  She loves educating children by using a multitude of learning media. Her love for children's books began while teaching pre-school.  Ms. Hornsby-Irving understands the relevance of children learning to read and developing advance vocabularies at an early age.  She was featured on KMOV Channel 4, Imagine a Better St. Louis, in The East St. Louis Monitor, on The Author Chat Show with Lynda Brown, and the guest speaker for The Walnut Park Library's Writers Group. Pamela Hornsby-Irving is a mother, grandmother, and proud member of Delta Sigma Theta Sorority, Inc., and Alpha Sigma Lambda Honor Society.
"All kids have the potential to read, learn and prosper. It is our duty to find the spark in them and help grow the fire."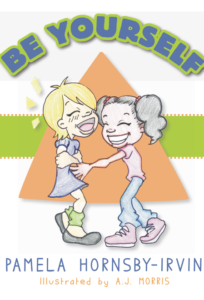 "Be Yourself"
Written by Pamela Hornsby-Irving
In this book, children will take a self-affirmation to be themselves!  The will come to know that you don't have to be like, look like or act like everyone else.  The message is for all children to embrace their differences because it is their differences that make them successful I life.  
RODGERS HOWARD
Rodgers is a husband, father of two beautiful daughter's, and three granddaughters.  He is also a veteran serving many years in the U.S. Army.  Mr. Howard has a long and distinguished career as a US government courier, but left that life behind to become a teacher and author.  Rodgers is currently attending St. Louis Community College Florissant Valley and studying early childhood education.  He desires to leave a legacy of children's literature that inspires hope and self-belief in all children.
"Every child needs to know how to read well at an early age. When children learn to read the light comes on and darkness flees."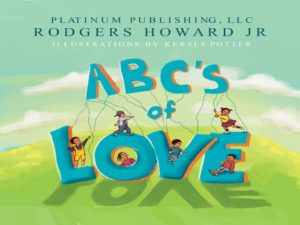 "ABC's of Love" (2015)
Written by Rodgers Howard
Reading "ABC's of Love", children can learn the letters of the alphabet while also learning words that describe good character and personal judgment. This book will help readers to understand that "love" is an action word.
ANDREA SCOTT
Andrea Scott is a fourth and fifth grades teacher at the St. Louis Language Immersion School and she is fluent in three languages (English, Spanish, and Mandarin).  Andrea is also an adjunct faculty member at Harris-Stowe State University, teaching fundamental writing courses.  She believes it is her mission to educationally support children and young people who grow up in high-risk communities.  Andrea herself grew up in a single parent home located in one of St. Louis' most vulnerable neighborhoods.  However, she is a living example that dreams can come true when you are focused and motivated.  Ms. Scott is a graduate of Lindenwood University (BA) and Missouri Baptist University (MA).
"Children's books are learning tools."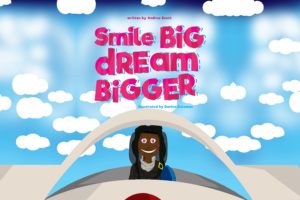 "Smile Big, Dream Bigger" (2016)
Written by Andrea Scott
PK-G1
No one has a more positive attitude than Samantha!  She speaks both English and Spanish fluently and in this book, shares her story of how important it is to believe in yourself and dream BIG dreams.  Take a bilingual journey with Samantha and her family as they build a life filled with hope, optimism, and smiles.
APRIL THOMAS
April enjoys offering her time and energy to causes that raise awareness about early literacy, strong families, and thriving communities. Ms. Thomas is a devoted early childhood professional as a classroom teacher for Jennings Public Schools and Parent Educator for Parents As Teachers (PAT). April developed a love for writing at an early age, but her passion for children's literature began as an undergraduate student at Harris-Stowe State University in St. Louis. In 2014, April obtained her Bachelor of Science in Early Childhood Education and is now pursuing the Master of Arts degree in Nonprofit Administration at Lindenwood University in St. Charles, MO.
"Either you are responsible for teaching or you are responsible for learning!"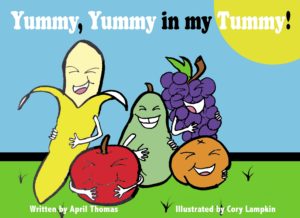 "Yummy, Yummy In My Tummy" (2015)
Written by April Thomas
Children will have fun reading and learning about colors, numbers, and fruit! This book is great for the emergent reader and very young children who are just beginning to recognize colors.
MON TRICE
Mon Trice was born in East Saint Louis, IL and spent most of her childhood there. At an early age she chose books over toys and often made up stories and plays.  During the teenage years, the family moved to St. Louis where she attended Mehlville Sr. High School.  After receiving her B.S. in Psychology from Southeast Missouri State University, she obtained her MBA Degree from Lindenwood University.  Mon Trice is a humanitarian at heart, offering her time and energy to such causes as March of Dimes, Jump Rope for Heart, Junior Achievement and Delta Sigma Theta Sorority, Inc.  Professionally, she has worked as a counselor for troubled youth. She is the former owner of Mother's Touch Daycare.  Her entrepreneurial spirit and desire for children's literature to reflect our pluralistic society is the passion that drives her. In 2010 Mon Trice co-founded Pageway Publishing LLC.  Mon Trice now resides in St. Louis, Mo with her husband, their son, Bob the goldfish, Humphrey the hamster and Sadie the Pooch. 
"Literacy learning happens at home first. Children enter the classroom with a dynamic set of values and experiences around literacy that are established within the home."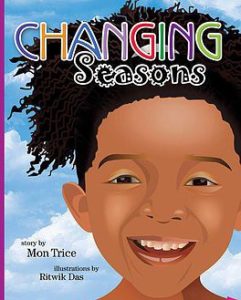 "Changing Seasons" (2011)
Written by Mon Trice
It's the first day of school and Tanesha has a big decision to make.  Come follow her thoughts as she decides what to do.  Along the way, you get a glimpse of a year in her life as she takes you through every season.  This story, sprinkled with African-American culture and the things that make her happy, keeps you guessing!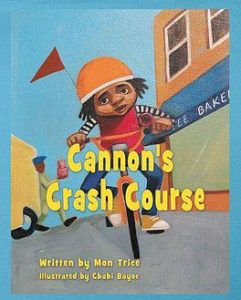 "Cannon's Crash Course" (2016)
Written by Mon Trice
Cannon is eager to ride his new bike but there is just one problem; he doesn't know how.  Impatient for help, Cannon decides to teach himself. When he has one misstep followed by another, Cannon feels defeated. That is until he finds the sweet encouragement he needs from the most unlikely person.