DONATE A BOOK BOX TO A FAMILY IN NEED TODAY. IT IS EASY AS ONE CLICK
WHAT WILL WE DO?
1000 Book Boxes
1000 Parents
1000 St. Louis Homes
Take a look at our work in three
simple steps.
01.
1000 BOOK BOXES
Custom designed book-boxes that include children's literature and posters published by St. Louis authors and illustrators, that value the images and interests of Black children.
We make available fun, creative, and engaging early literacy activities that are aligned with national learning standards.
02.
1000 PARENTS
The highlight of the campaign is our Family Style Dining Dinners where we have a dialogue with parents about how literacy is socialized within the home (listening, speaking, reading, writing and techno-browsing).
Targeted invitations are given to families living in zip code areas with the lowest levels of 3rd grade reading proficiency.
03.
1000 ST.LOUIS HOMES
We encourage individuals, businesses, and organizations of good will to purchase our book-boxes for families that lack age appropriate books at home.
We strive to connect parents to evidence based strategies and community resources that support children learning how to read.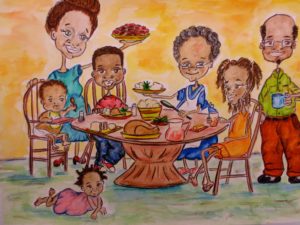 SUBSCRIBE TO OUR NEWSLETTER NOW!
WE WILL BE HAPPY
TO HEAR FROM YOU
St. Louis Black Authors of Children's Literature Initiative
EMAIL
_
stlblackauthors@gmail.com